Chuck Vali is an architect, coder, and developer of fantastic SketchUp extensions. And he lives in Hawaii, where he gets to design gorgeous resorts like this one:
I've used Chuck's tools for years. Collectively known as Instant Architecture , this combination of tools automates the creation of terrain, walls, fencing roads, trails, roofs, and more.
Instant Roof is probably his most well-known extension. Chuck demonstrates it in this video, in which he shows how to model in SketchUp quite a complex building in less than eight (!) minutes.

In addition to his own website, Chuck's extensions are all available in the Extension Warehouse, for very reasonable subscription fees. (If you're unfamiliar with the Extension Warehouse, see our post on how to find and install Warehouse extensions.)
We asked Chuck for his views on SketchUp, what's he's currently up to, and what extensions he likes to use.
Tell us what you do? Who you are? Background? Something funny about you?
I'm an architect. My work often involves the administration of hotel and resort construction projects, so I draw quite a few field sketches. Whether it's 2D or 3D, I usually use SketchUp. 
As a sideline, I enjoy writing SketchUp extensions. (That could be the funny part, I guess?)
Tell us about how your products can serve SketchUp users.
My extensions model roofs, roads, railings, and other building elements, at a schematic design level of detail, so the polygon counts and file sizes are small. Although I really just write them for myself, as if I am the only user, other people seem to like using them as well.
When did you start using SketchUp? Do you remember your first project?
I started using SketchUp in 2007. My first model was a residence on a sloped lot. Years ago when first I started using CAD, my wife said she was an AutoCAD widow. She has since turned into a SketchUp widow.
When did you get the idea to develop a SketchUp extension?
On that first project I wished I had a script to help make roads and driveways, and adjust the grades around the buildings and retaining walls on the sloping property.
I had no idea how to script, so I followed a couple of online PDFs by Chris Fullmer. (Chris is awesome. I've learned a lot from him.) Once I got a little script to work, I was hooked.

What do you find frustrating with SketchUp?
SketchUp always wants to snap to something, and I'd like to be able to turn that off sometimes. In AutoCAD I have a mouse button toggle snap so I can turn snapping on and off, even within a single operation.
What other 3D programs do you use? What about rendering, if at all?
I've used some other 3D tools in the past, but I currently only use SketchUp for 3D. I don't do any rendering. In fact, I prefer SketchUp's output.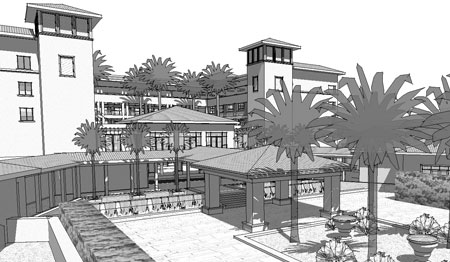 Where would you like to see SketchUp go? Where do you hope your products and service will go?
I'd like to see SketchUp continue as a general-purpose modeler. As for my extensions, computers and software change so quickly I don't think too far ahead. But I intend to keep writing new ones and improve the old ones.

Do you use extensions other than your own?

I use Didier Bur's Extrude Line Tool every time I use SketchUp. I manage all projects larger than a dog house with TIG's Xref Manager. And when I need curves or polylines, I use Fredo's Bezier Spline tool.
(Note – these are all SketchUcation extensions.)
If SketchUp could incorporate features from other programs, what should those be?
I think Xref support, including in-place reference editing similar to AutoCAD, would be the single best feature to add. Second would be more control over line weights – maybe sort of like fog: the most distant lines would be hidden or not displayed. A 2D drawing mode lock would also be nice.
Thanks, Chuck!