We took a bit of a posting break recently – summer is a crazy time with kids at camp and (too short) vacations. We'll do our best to keep posting!
One reason for the radio silence is that I spent part of last week at the ISTE Convention in San Antonio. This is a huge show on technology for education, with about 24,000 attendees. I was there to work the booth for my husband's company, Legends of Learning, and we were so bombarded with foot traffic that it was hard to break away for a rest! (Which is why these conferences are great for the young….)
But while on a few breathers, I got to walk around the floor a bit, which is always fascinating. And a special treat was getting to spend some time in the SketchUp booth.
There were lots of cool things here, such as the 6 high-end Ultimaker 3D printers in one corner, running the whole time, producing various cool things.
But the most popular item in the booth was the SketchUp arcade game. This was a collaboration between SketchUp and Sparkfun Education. (Tech ed teachers, hobbyists, video game nerds – read how it was all done!)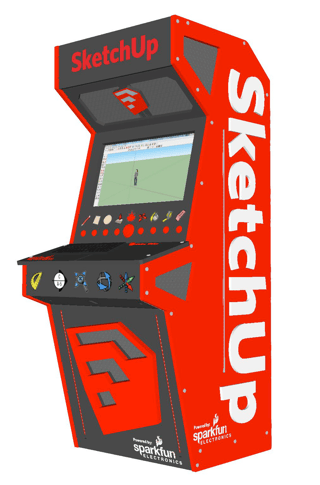 The box itself and mechanical design came from the uber-talented Eric Schimelpfenig of SketchThis. He produced all of the components of the arcade cabinet – the CNC milling, painting, stickers, etc. Here's how the cabinet looked, closed and open: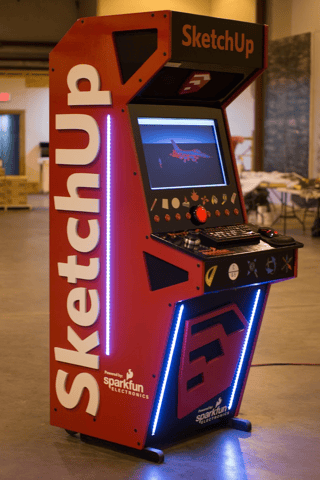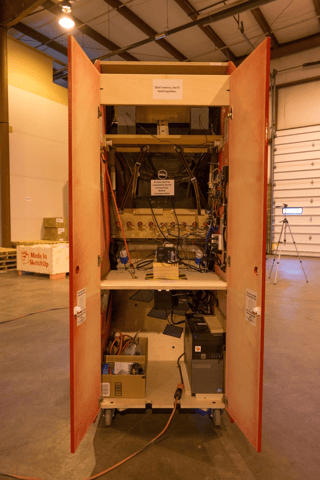 The electronics were handled by Sparkfun. Each of the big buttons activated one of SketchUp's drawing tools. They even added cool effects like blasts of fog and crazy sounds.
You need to take 5 minutes to check out this video of how it all came together:
What will they come up with for next year's show….. ?