In Part 1 of this series, I showed how I modified a Thingiverse model of a bear, to print out for my son's diorama state project for school.
Now it's my daughter's turn. Her state was Arizona, and she wanted to include some sort of Arizona tree or plant. And what says "Arizona" more than a saguaro cactus?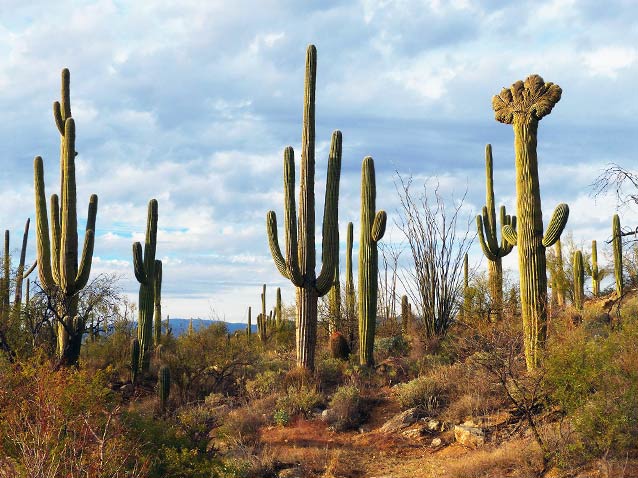 Thingiverse Cactus?
Alas, there wasn't much to find in Thingiverse in the way of cacti. The only one I liked was this one:

I thought it would be cute to print this out and stick in some toothpicks. But after importing the STL file into SketchUp, I ended up with this strange R2D2-looking thing, lying on its side, with more missing faces than actual faces. Fixing this would be way more work than I'm willing to do for a shoebox diorama. Oh well.
3D Warehouse Cactus
Since I struck out on Thingiverse, I tried the 3D Warehouse instead. Here's the model I ended up using:
After bringing it into SketchUp, I used the Tape Measure tool to change its height from 24 feet (hard to bring!) to 3 inches.
The entire model is painted with a striped green texture. Looks nice, but makes it hard to see the actual edges and faces. So I switched to View / Face Style / Monochrome. In addition to removing all materials, monochrome view has the added benefit of showing whether a model is watertight.
(Watertightness is an important topic when dealing with 3D printed models. See our post on this, and our post on the helpful Solid Inspector extension.)
I also added a little stand at the bottom for easy gluing to the shoebox.
More Cacti
That took care of one cactus. But Arizona deserts always have a wide range of differently-shaped cacti. So I wanted to make a couple more.
Using that same downloaded model, I added a few more arms, using the Scale tool to make each arm a slightly different size. Also,  I reduced the height of the center stalk (tree trunk?), which is easy to do when hidden edges are showing (View / Hidden Geometry).
For the third cactus, I used Scale again to make the stalk wider and shorter, and reduced the number of arms to just two small ones.
The only green plastic I have on hand is a bright neon – not great for a desert plant. So I printed them in white, and my daughter used a green Sharpie to make them a more realistic green.
Stay tuned for Part 3, where I'll show her final Arizona diorama.
The last print I did will also be shown in Part 3 – back to New York, and a special boat for Niagara Falls.